Another collection of Bible-based micro-tales
Written by Mark Morgan
"Fiction Favours the Facts – Book 2" is a second collection of 22 micro-tales from the Bible Tales Newsletter.
Micro-tales? What are they? They are short stories about Bible characters or events.
Bible-based fiction – the facts of the Bible rounded out with imaginative detail to help us recognise the lives and feelings of real people.
Some tell of little-known Bible characters, while others concentrate on an incident in the life of one of the more famous Bible characters.
Share the experiences of people who met the prophets Jeremiah and Ezekiel; consider how God's curse dogged the rebuilding of Jericho; see Jesus as his family saw him; marvel at the faith of a woman who was sure that just touching Jesus' clothes would heal her.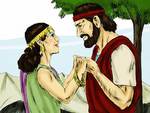 Have you ever wondered how Hosea came to marry a prostitute? "Hosea's Story" might offer you an answer, and get you thinking more about the patience of God.
Meet Jacob and his children, King Manasseh, Gehazi, Joseph of Arimathea, Elymas and many others as they recount their experiences for you.
Each micro-tale will give you
 something to think about.
Old Testament

New Testament

Laban's Lament
Crime and Punishment
Up we go
Jericho Revisited
Of Bears and Boys
To Serve a Prophet
Hosea's Story
The Blind Leading the Blind
Repentance and Forgiveness
Have a Drink
Is my Husband Going Mad?

A Shepherd's Story
A Touch of Faith
A Short Story
Has my Brother Gone Mad?
Injustice
All, or Not Quite?
Cornelius
A Touch of Magic
I Must Have Gone to Sleep
Travels with Paul
What to do?
A wide variety of Biblical characters walk across the pages of this book and each micro-tale gives us something to think about. Lives presented by the Bible in just a few words are thoughtfully expanded, tinted with colour and life – but without straying from God's word.
Details of eBook

eBook in PDF, EPUB or Kindle (MOBI) format
211 pages in PDF
ISBN: 978-1-925587-23-4
Footnotes with background details and Bible references
Details of paperback
Paperback book with white paper
111mm x 178mm (4.37" x 7")
Body text 10.5pt
211 pages
ISBN: 978-1-925587-22-7
Footnotes with background details and Bible references
Details of audiobook

Audio book – Written and read by Mark Morgan
Unabridged recording of 22 micro-tales
Almost 5 1/2 hours duration (321 minutes)
MP3 format - one file per story
461MB zip file for download
Don't forget to select the format you want before purchasing.